Resource 3
Catchment and Coastal Pollution
Source: Fien, J. and Paden, M. (1997) The Australian Teacher's Guide to World Resources, Griffith University, Brisbane, Module 9.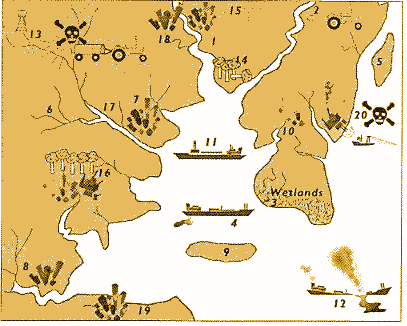 ---
Resource 4
Pollution Events
Source: Fien, J. and Paden, M. (1997) The Australian Teacher's Guide to World Resources, Griffith University, Brisbane, Module 9.
Tests reveal high lead levels in the soil of a central riverside residential district.

Another major fish kill has been reported in a river that has suffered from agricultural toxins before.

Community effort has resulted in a large unspoiled tract of mangrove and marsh being protected as a wetland reserve.

The collision of two ships results in a large unspoiled tract of mangrove and marsh being protected as a wetland reserve.

State and Federal politicians are in dispute over the continued dredging and clearing of mangroves for an island resort.

Unacceptable high heavy metal contamination was still present even after a mining company's creek bed clean-up.

A research team from two universities has made significant advances in the bacterial treatment of sewage.

The collapse of a major urban sewer has, for the second time, caused heavy contamination of the receiving river and nearby beaches.

The removal of trees and natural bush has left this island with severe soil salinity.

The pilot research project of an artificial wetland to treat effluent has been so successful that others have been started.

Ballast water being pumped from the bilges of visiting ships has introduced several unwanted species into our waters.

A large cargo ship breaking up in rough seas off the coast has poured fuel oil into the sea.

Sewage plants at well sites are discharging wastes into rivers and fish kills are being reported.

The reduction of koala habitat continued as forest only meters from trees occupied by koalas was pushed over to create housing lots.

A criminal investigation into alleged organised dumping by industry of toxic wastes down storm water drains has been initiated.

Water reclaimed from sewage has been successfully used to grow trees in an arid area thus reducing pollution and producing a valuable product at the same time.

Pollution, overuse and poor management are destroying many Australian rivers.

A bright orange strong acrid smelling pollutant flowed from an urban storm water drain into the local creek for over an hour.

A major city applying only primary treatment to its sewage has polluted its own beaches with fecal coliforms.

The fishing industry is fighting a plan by a pulp mill that wants to pump its toxic wastes into the sea.

---
Resource 5
Newspaper Reports on Pollution Events
Source: Fien, J. and Paden, M. (1997) The Australian Teacher's Guide to World Resources, Griffith University, Brisbane, Module 9.
Tests Find High Lead Levels. Silt under Brisbane's Storey Bridge has tested positive for high lead levels resulting in some Kangaroo Point residents having precautionary blood tests. A spokesman for the Environment Minister said there was no immediate evidence of a major health risk (Courier Mail, 13 October 1994, p.3)

Dead Fish Prompt River Poison Tests. The Mary River poisoned once before with endosulfan, a chemical used in agriculture, has been poisoned again. The kill reported by residents of Cambroon took place in one of the few remaining deep holes in the drought affected river (Courier Mail, 21 November 1994, p.3).

700 hectare Wetland Reserve. In Boondall in Brisbane, community energy, organisation and commitment culminated in the 1990 declaration of an unspoiled area of tidal flats, salt marshes, mangroves, melaleuca forest and grass lands as a reserve, thus saving it from development.

Spencer Gulf Oil Spill. On 30 August 1992, upper Spencer Gulf, South Australia suffered the largest oil spill in the state's history when, as the result of a collision at Port Bonython, 295 tonnes of fuel oil escaped from a tanker into the shallow gulf waters and ultimately the tidal creeks of the opposite shore. The area is the home to a significant scalefish industry and a nursery for prawns (Saltfish, 17(2), 1992, pp. 4-6).

Controversy Again! The Federal Government and the Queensland State Government are locked in a bitter dispute and an 11th hour decision to allow or stop further mangrove clearing and channel dredging for a Hinchinbrook Island resort development (Courier Mail 17 November 1994).

Toxin at MIM Clean-up Site. A chemist has reported that levels of lead and cadmium were still unacceptably high after a clean-up operation in a river bed situation leaving creeks and gullies contaminated (Courier Mail, 8 July 1992).

Team Takes Bugs Out of Sewage Treatment. A team from the University of Queensland and Latrobe University studying bacterial diversity has made advances that could revolutionise the treatment of sewage and prevent extensive environmental damage every year (Australian, 22 February 1995, p.25).

Collapsed Sewer Wreaks Havoc. For the second time in recent months a major sewer has collapsed in the Melbourne metropolitan area causing heavy contamination of the Maribyrnong River and pollution of inner city bayside beaches (Australian Environmental Review 1992, 7 (11) p.6).

Kangaroo Island South Australia. Extensive soil salinity is directly related to excessive removal of native trees and bushes. Large tracts of the Pilbara region in Western Australia suffer such extreme erosion that only bedrock is left (Beale, B. and Fray, P. (1990) The Vanishing Continent, Sellers Pty, Kenthouse, NSW).

Wetlands Used for Treating Effluent. The successful use of an artificial wetland started at Ingham, Queensland, as one of several pilot projects researching the treatment of effluent. The project started in 1993 and is now treating approximately 30% of the city's output (Queensland Government, DPI Integrated Catchment Management).

Ballast Water: The Scourge of the Oceans. At least 14 exotic species have arrived in Australia in ballast water and other micro-organisms such as viruses, protozoans and various bacteria are yet to be tested for but may very well be present in ballast water discharged into Australian waters (Bonny, B. Australian Quarantine and Inspection Service, 1994) .

Stricken Carrier in Oil Spill Crisis. The Iron Baron ore carrier breaking up off the coast of Tasmania is among our worst marine disasters as her fuel oil pours into the sea (Australian, 12 July 1995, p.1).

State Pollution Shame. Well-site sewage plants being run outside licensing requirements are discharging waste into Queensland's rivers and estuaries. Fish kills were becoming regular events (Courier Mail, 25 March 1995, p.1).

Koala Habitat Threatened by Tree-felling say Locals. Bulldozers were knocking down trees within 50 metres of koalas to provide property blocks for 35 homes on land approved by the Redland Shire Council (Courier Mail, 15 August 1991, p.12).

Toxic Dumps Bribe Probe. This is the first major investigation into organised environmental crime in Australia and involves the dumping of toxic waste down storm water and sewage drains in south-east Queensland. It is reported that truck loads of up to 17 000 litres of waste materials are dumped into the drainage systems (Sunday Mail, 21 February 1993, pp. 1 and 4).

Forest Project Turns Tide on Sea-bound Sewage. A woodland on Adelaide's dry northern plain is surviving on water that has been reclaimed from city sewage. The project is being assessed to decide if thousands more hectares should be planted. It is an attempt to reduce the nutrient-spurred algal destruction of the sea grass habitat due to effluent discharge (Australian, 25 July 1992, p.l0).

Death of a Lifeline. Pollution, overuse and poor management are killing Australian rivers (Australian Weekend Review, 21 May 1994, p. 3)

Norman Creek Pollution. A bright orange liquid with a strong chemical smell was witnessed flowing from a drain outlet into Norman Creek for an hour and a half. The drain runs under an industrial area in East Brisbane (South Eastern Advertiser, 12 July 1995, p.1).

Dirty Surf: Fecal coliforms are present on Sydney's beaches from the city's sewage that receives primary treatment only. Both the fish and oysters show heavy metal contamination (New Internationalist, No. 136, 1992, p. 25).

Fisherman Concerned for their Catch. A plan for a $60 million ocean outfall pipeline that would pump a projected 3000 tonnes of organo-chloride pulp mill effluent off the north coast of New South Wales is meeting stiff resistance from the fishing industry.

---