Scientific name: Thunnus albacares
Phylum Chordata
Distribution: The yellowfin tuna (Thunnus albacares) is a type of tuna found in open waters of tropical and subtropical seas worldwide. Yellowfin Tuna are found close inshore, in clean warm currents, but are more common on the Continental Shelf areas. They prefer clean water with water temperatures of 17-27ºC. They rarely venture into dirty, discoloured areas.
Description: It is an epipelagic fish ranging in the top 100 m of the water column. Reported sizes have ranged as high as 239 cm in length and 200 kg in weight. In Australian waters fish of between 2 and 80kg are common with some specimens reaching 100kg. Yellowfin is becoming a popular replacement for the severely depleted supplies of bluefin tuna. The second dorsal fin and the anal fin are both bright yellow, thus the common name, and can be very long in mature specimens, as are the pectoral fins. The main body is very dark metallic blue, changing to silver on the belly. In juveniles there are about 20 broken pale lines crossing the lower sides.
Ecology: Yellowfins tend to school with fishes of the same size, including other species of tuna, and larger fish are often seen with dolphins, porpoises, whales and whale sharks. Yellowfins eat other fish, crustaceans, and squid. They have a life span of about 7 years. Most yellowfin are capable of reproduction at the age of 2 or 3 years. Female yellowfin are multiple spawners, with an average spawning frequency of 46 times or about one spawn every three days. Females have an average of 1 million to 4 million eggs. Sharks and large bony fishes prey on yellowfin tuna.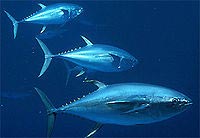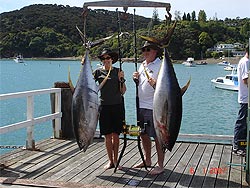 Yellow fin tuna are caught by many recreational fishers. Image from Katy_BP at www.flickr.com