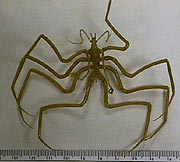 Giant Sea Spider
(Click to enlarge)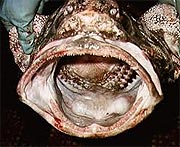 Rattail fish
"Benthic" refers to life on or in the ocean bottom; animals swimming just above are "benthopelagic". The shallow zones are the Intertidal (between high and low tide levels) and the Subtidal (on continental shelves).
Deep Benthic Zones - Bathyal, Abyssal, Hadal
The continental slopes are usually called Bathyal zones, usually in the range of 300-2000m;
The general ocean bottom or abyssal plain is the Abyssal zone (2000-6000m; average 4000m deep, and covering perhaps half of the entire planet);
The deep trenches (about 6000m down to 11,000m or so in the Mariana and Mindanao/Phillipine Trenches) are sometimes called the Hadal zone. These have been little explored, but a new type of hybrid sub is now being used for this purpose (its first expedition was in spring 2009).
The surface of most areas is mostly mud and organic ooze, though some bathyal slopes are rocky. Most life here must also cope with low food supply, and again most food chains start with detritus and bacteria. The most common fishes are the rattails or grenadiers; the most common large invertebrates are echinoderms such as sea cucumbers, seastars; but there are many other animals such as sea anemones, sponges, molluscs, crabs, seaspiders (pycnogonids), burrowing worms of many types; etc. Echinoderms such as sea cucumbers have been seen at 10,200m depths! For the biology and geology of the Mariana Trench, click here.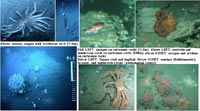 Bathyal seafloor scenes, 510-600m
(Click to enlarge)