Become a Sponsor of MESA website
Cost: negotiable. Please contact the Secretariat to discuss. We believe we are giving you value for money.
What we will provide:
Banner ad
Your banner ad, located in the top right hand corner of nearly all pages on the MESA website, will be one of four randomly selected from a four banner rotation. Each time a page is loaded one of the four ads is randomly selected and displayed. These banners appear on over 700 pages on the site.
We suggest that you have more than one banner or update it at regular intervals to keep it "fresh". Perhaps this could be linked to a special promotion through the website.
The banner ad will be 350 x 55 pixels. We will design the Flash banner ad, using materials you provide, if required. This banner ad will link to your MESA web pages.
Note: Banner ads are currently not displayed on all pages in the Friends of MESA section. The material here is hosted but not produced by MESA.

MESA will provide up to 4 web pages based on information provided by your organisation. We will also host pdf files for download e.g. your catalogue; brochures; order form, etc. We would expect no more than 2 Mb of material in total.
If required, we can convert your Word documents, etc to pdf format.

MESA will provide two reports per year detailing:
· the number of views of your banner(s);
· the number of visits to your main web page; and
· the number of downloads of any pdf brochures, order forms, etc
Your organisation will need to provide products and services which are of interest and relevance to our visitors.
You will need to provide us with sufficient materials (text, graphics and images) to construct the web pages and banner ad.
We recommend that you vary your banner ad throughout the sponsorship period. One way to do this may be through special offers (to MESA members and/or visitors) that can be changed throughout the year.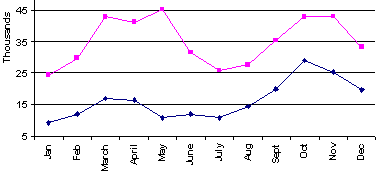 | | | | |
| --- | --- | --- | --- |
| Month | Sept 2001 | Sept 2002 | Sept 2003 |
| Visits | 8913 | 19878 | 35362 |
The data above clearly shows the dramatic increase in visits over the past two years.