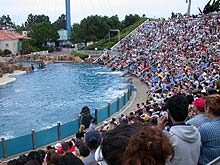 One of the popular dolphin shows at
SeaWorld, San Diego
We started our second day in San Diego at SeaWorld. Arriving early we had a chance to get through some of the best rides while the park was relatively empty. Then it came time to join the holiday crowds at dolphin shows and the Shamu Show. Unfortunately the limited time we had in San Diego meant an early afternoon departure and we were on our way to the Stephen Birch Aquarium at Scripps Institution.
Being based at an oceanographic research institution, the Birch Aquarium is a welcome change of pace from the hectic SeaWorld, especially on a warm San Diego afternoon. At the time we arrived the displays were going through a major rebuilding phase but there was still plenty to see and the bookshop at Scripps is 'to die for'.