The program provides assistance to community groups and individuals. Working side by side with land managers in the decision making and on-ground works necessary for coastal management, groups and individual will ensure that the coast and marine natural values are restored and protected for future generations.
To protect the biological diversity of our coastal and marine environment requires joint efforts by individuals, community groups, organisations and governments. Only co-operative action will ensure the future of our coastal and marine environment.
To find out more about Coast Action/Coastcare or to become involved in coastal and marine activities in Victoria visit www.dse.vic.gov.au/coasts.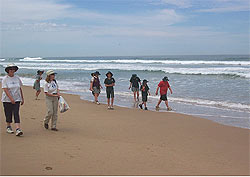 Bellbrae Primary students discover Point Addis
Marine National Park with Coast Action