Want to know more?
Forams are:
• Tiny little animals
• The star shaped bits we find in the sand are their shells (tests)
• They are made of just one cell
• Most live on the bottom of the ocean
• These ones are found on algae, rocks and reefs
• They catch tiny bits of food on sticky threads
• They get eaten by sea snails and sea urchins

Why are they called forams?
• They got their name from the holes they have between the chambers of their shells
• The 3-dimensional star shaped shells are really interesting to look at up close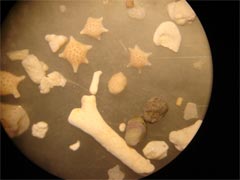 What happens if you look closer?
• Notice they are 3 dimensional in shape
• They also have dots on them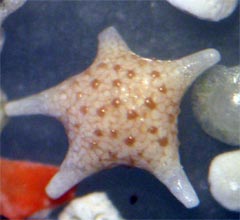 What if you look even closer?
• Can you see the lines joining up the dots
• These let water flow through into the chambers inside the test carrying food for the animal inside