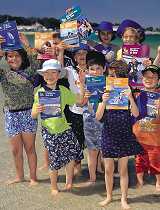 Bob Moffatt
Manager, Wet Paper Publishing & Consultants
Location of position: Office and warehouse
Marine area that you work covers: All of Australia.
General duties: Management of marine education and safety projects eg Water Wise and Kids and Water Australian Reader Series.
Projects involve media features and advertisements, workshops and training, text books writing and publication, websites, community displays, school curriculum resources, tenders, budgets, sponsorships, reports, government departments and other organisations, environmental educational materials, like flyers, brochures, newsletters, posters and so much more.