This conference aims to provide marine and coastal educators with practical strategies to effect sustainable long-term use and conservation of our coastal and marine habitats and the life they support. Conference presenters will provide examples of "best practice programs in community and schools marine education" from throughout Australia.
Mr. Tim Allen - Tim is well known though out Australian for his outstanding & untiring commitment to marine education, both in schools & the wider community through the Marine and Coastal Community Network & community radio.


Dr. Mark Norman - Mark's studies of octopuses should be the envy of all who are fascinated by marine life - who else gets to work with such outrageous creatures and to discover and describe over 40 new species. Many of Mark's discoveries must to seen to be believed.
Dr. John Sherwood - An environmental chemist, John Sherwood is a scientist with a passion bringing together science and the community. His work on chemical, physical and biological interactions in estuaries has led him to work towards the sustainable management of estuarine communities.
Mr. Reg Lipson - Marine naturalist, scientific voyeur and underwater adventurer, Reg's passion for everything marine shows through his regular appearances on Australian T.V. & Radio and his teaching programs throughout the Sth Pacific.

Conference Dinner
The conference dinner on Valentines Day, February 14th, will be one you won't forget with the after dinner speaker being Reg Lipson presenting his colourful talk "Exotica and Erotica of the Deep".
Set in one of Victoria's premier tourist destinations, at the gateway to the diverse and picturesque environments of southern Port Phillip Bay, Portsea Camp dates back to 1885 when authorities reclaimed the land from private lease holders in order to erect fortifications and barracks to counter the supposed threat of a Russian invasion. It was then known as Fort Franklin and between 1940 - 45 it was used as a depot to store ammunition. At the conclusion of WW2 its role as a defence establishment ceased. Since 1945 the Portsea Camp (LMCC) has used the site catering largely for school groups.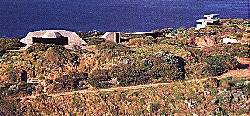 Gun emplacements at Point Nepean.
Conference participants will enjoy the local favour created by being in Portsea at the best time of the summer season and will being staying in a venue with a location that has magnificent views across the Bay to Queenscliff, beach access, two rock platforms, extensive grounds and a tranquil relaxed atmosphere.
Portsea is located near the Point Nepean National Park and Marine Reserve at the tip of the Mornington Peninsula. It is located approximately 40 kilometres south east of Melbourne.