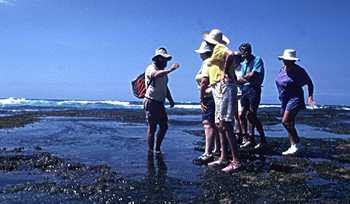 This website is the latest stage of a project which started 10 years ago.
I wanted to revise John Dakin's and Isobel Bennett's classic "Australian Seashores".
At that time, before Isobel Bennett revised and released the book in a number of new forms, it was restricted to the shores of south-eastern Australia.
I set myself the task of writing a book which showed all the common animals and some algae that you would find if you visited a rocky shore at low tide anywhere around Australia.
I made the decision not to include well hidden and rare animals, or the book would have mushroomed into huge proportions. I set out to construct a field guide that would fit in your back pocket, and be representative of all rocky and adjacent sandy and muddy shores around Australia.
So for ten years, every annual holidays, my wife Pat and our children, Peter, Karin, Susan and Chris and I traveled to another section of Australia's coast. Armed with a lot of reference books, a lot of marine specialist's advice, that year's Tide Tables and maps, We plotted where the best and most representative shores would be.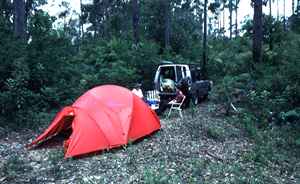 When our family goes away we live an outdoors camping lifestyle. Our four children, now teenagers and beyond, have always come with Pat and I. We have high quality, small lightweight tents, by Macpac which are absolutely reliable under all conditions. Any fool tent will stand up on a warm, calm summer's night. You need a tent that will withstand fierce wind and rain and still keep you, your family and your gear dry. A good night's sleep is essential, so our family use Thermorest mats, and high quality down sleeping bags.
We travel in a LandRover and have only ever had two in 34 years of motoring. Six months ago we purchased our third, a LandRover Discovery. To obtain my photographs we have visited many remote shores, off the beaten-track. Our LandRovers have always got us back, no matter how remote the location.
So for a week at a time, when the tide was low during the day, I would arrive on a shore about two hours before low tide and hail, rain or shine, and would start at the bottom of the shore photographed everything I could find. This process usually took about 3 - 4 hours.

I shot thousands of close-up photographs, all on Kodachrome 25 ASA for the close-ups, and Kodachrome 64 ASA for the landscape shots. Kodachrome does not fade over time. Cataloguing the slides has been a mammoth task. I have used Nikon cameras exclusively, using a trusty Nikon F1, with its removable viewfinder, so that I could look down on top. The rig has two flashes, one main flash on the upper right and a fill flash on the left, alongside the lens. The fill flash has a diffuser across it which holds back the light 1.5 stops. This gives the subjects modeling. Every part of my close-ups are well lit for book publishing. I hold the camera rig with one hand, and keep the animal under control with the other.
The book titled "A Photographic Guide to the Seashore Life of Australia" is published by New Holland Press, and sells for under $20 per copy. You can pick it up, or order it, through any of the major bookstores. It has about 230 species, all photographed in colour, with a brief, detailed description of the species and an accompanying distribution map. No other intertidal life field guide covers the whole of Australia.
One limit to the book was the need to keep the descriptions very brief. This was under 115 words for each species. I also wasn't able to spend a lot of space on ecology, landforms, environment, inter-species relationships, the food-web, behaviour, etc. So the idea of supplementing the book using a Website came into my mind. The book was entirely created digitally, using a Apple Mac computer for every step.
I work at the University of Newcastle, as a Learning Consultant. One of my roles is to assist staff to use all forms of media, such as photography, illustrations, video, audio, multimedia, websites, etc. in their learning and teaching. So it was natural to create this constructivist learning resource as an addition to the book. The book is an excellent field guide to be carried with you when you go to the shore. When you get back, the Web site explains what you saw, and fits the environment, animals and algae into context.
This Web site only covers the animal and algae groups of south-eastern Australia, which is the Eastern Warm Temperate Biogeographic Zone. That still is 150 topics, or web pages. The next stage of the process is to extend this to the other four biogeographic zones around Australia.
The Website has been constructed entirely with Macromedia products on Apple Mac computers. The Web pages have been created in Dreamweaver, and all of the photographs, illustrations and animations have been created in Fireworks. I used Freehand for the distribution maps. For future development I will be also using Flash. I use Apple Computer equipment exclusively.
This "Life on Australian Shores Website" is now part of the MESA (Marine Education Society of Australia) Website. Here, all students and teachers involved with Marine Sciences and Marine Education can readily access the information it contains or links too.
As well, I have many video clips of what happens on the rocky ocean shores, to impart a bit of the drama of actually being there. The videos also shows the behaviour of many of the animals. This cannot be effectively shown on the Web, so the next development will be a full CD-ROM for Seashore Animals for all of Australia. I will be using Apple Quicktime for the digital video clips and streaming video and Quicktime VR for landscape panoramas. For this process I will be looking for assistance from sponsors who see value in this project continuing.
This continues to be an exciting process. I am having a lot of fun doing it. I hope that you consider that this project is worth continuing.
I also hope that this Web site enthuses you to want to investigate and learn more about the fascinating environments, the geography and geology of the landforms of the ocean shores and intertidal regions, and the fabulous and fascinating plants and animals that are found there.
If you have any comments about this site, or wish to ask me some questions, please send me an email at seashores_australia@hotmail.com