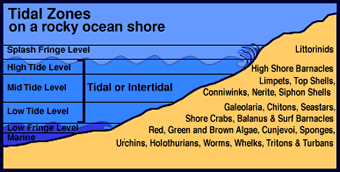 If you visit a rocky ocean shore at low tide in south-eastern Australia between Fraser Island in south-eastern Queensland, south along the New South Wales coast and then west across Victoria to Cape Otway, including north-eastern Tasmania you should find many of the following animals and seaweeds. This region has been called the Eastern Warm Temperate Zone.
Some organisms occur in a very narrow band and only occur at a particular tidal level, while others are far more wide ranging and occur at nearly all tidal levels. Those that occur at a particular tide level are called Indicator Species.
Question:
Look at the above diagram. Can you work out which creatures would be the best indicator species at the different tidal levels?
This Life on Australian Rocky Shores Web Site features representative seashore species which have been compiled by Keith Davey, author of "A Photographic Guide to Seashore Life of Australia", published by New Holland Press in 1998.
The classification here for the Eastern Warm Temperate Zone is based upon assumed tidal levels for any coastal Australian shore. Other researchers have used the more technical names within the brackets. See the Reference List below.
As this Web Site is more fully developed other sets of animals from the other four Biogeographic Zones will be added.
---
Eastern Warm Temperate Zone
Southern Queensland, New South Wales, eastern Victoria and north-eastern Tasmania
---
Bivalve
---
HIGH TIDE LEVEL
(Upper Mid-littoral or Eulittoral)
MID TIDE LEVEL
(Middle Mid-littoral or Eulittoral)
LOW TIDE LEVEL
(Lower Mid-littoral or Eulittoral)
Serpulid
MARINE ZONE
(Sub-tidal or Sub-littoral Zone)

---
References
Bennett, I. (1987) W. J. Dakin's classic study: Australian Seashores. p. 3-12, Angus & Robertson, Sydney.
Davey, K. (1998) A Photographic Guide to Seashore Life of Australia. p.8, New Holland, Sydney.
Eastern Warm Temperate Zone
Western Warm Temperate Zone
Cool Temperate Zone
Eastern Tropical Zone
Western Tropical Zone

---
Home Page
Taxonomy
Biogeography
Rocky Shores
Tidal Levels
Intertidal Zonation
Environmental Factors
Biological Factors
Feeding Relationships
Activities
Glossary
References