Form: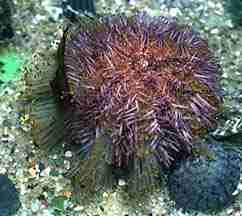 A small, nearly globe-shaped sea-urchin about 50 mm in diameter. The Holophneustes group of sea urchins have shorter and more delicate spines than other types of sea-urchins.
Colour:
Distinguished by its brown or pale pink test (shell), pink spines, mostly transparent and colourless tube feet, with bright lemon coloured sucker tips.
| | | | |
| --- | --- | --- | --- |
| Phylum: | Echinodermata | Author: | H.L. Clark, 1912 |
| Family: | Temnopleuridae | Size: | 60 mm , spines to 4 mm |
Distribution:

Confined to the New South Wales between the Richmond River to Ulladulla.
Occurs at low tide levels and below to 8 metres. It prefers sheltered and moderately exposed rocky shores and reefs.
Habitat:
It is easily overlooked as it shelters among frond of algae. When dead, its interestingly sculptured bare test is often washed up on beaches after storms.
Biology:
This species, which is confined to the shores of New South Wales, has at least two other relatives from southern Australian shores. One is the Pored Sea Urchin, Holopneustes porosissimus, which is distinguished by its greenish-grey test and brilliant red tipped spines,ranging from Tasmania and across southern Australia to Freemantle, Western Australia. The other is the Egg-shaped Sea Urchin, Amblypneustes ovum, distinguished by its white test and black spines, ranging from Tasmania to South Australia.
---
References:
Bennett, I. (1987) W.J. Dakin's classic study: Australian Seashores. p.249, Angus & Robertson, Sydney.
Davey, K. (1998) A Photographic Guide to Seashore Life of Australia. p.134, New Holland, Sydney.
Edgar, G.J. (1997) Australian Marine Life: the plants and animals of temperate waters. p. 363, Reed Books, Kew.