Overview
As well as the environmental factors, such as latitude, oceanic and local currents, effects of the wind, wave strength, substrate, tidal effects, the drying effects of the sun, salinity of the water, which all impinge on the life of an organism, there are many biological factors which also have a major effect.
Some of these Biological Factors are how the organism respires either taking up or releasing oxygen and carbon dioxide, where and what does it consume as food, what eats it, how does it excrete toxic wastes, how does it meet a partner and produce offspring and what behaviours does it perform to avoid harmful situations and maximise its chances of continuing success.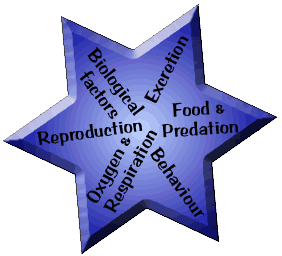 These factors are all interrelated and how every organism copes with the effects of these factors is a fascinating story worth investigation.
---
References
Bennett, I. (1987) W. J. Dakin's classic study: Australian Seashores. Angus & Robertson, Sydney.
Davey, K. (1998) A Photographic Guide to Seashore Life of Australia. New Holland, Sydney.
Edgar, G. J. (1997) Australian Marine Life: the plants and animals of temperate waters. Reed Books, Kew.
Quinn, G. P., Wescott, G. C. & Synnot, R. N. (1992) Life on the Rocky Shores of South-eastern Australia: an illustrated field guide. Victorian National Parks Association, Melbourne.
Marine Research Group of Victoria (1984) Coastal Invertebrates of Victoria: an atlas of selected species. Museum of Victoria, Melbourne.
Macpherson, J. H. & Gabriel, C. J. (1962) Marine Molluscs of Victoria. Melbourne University Press & The National Museum of Victoria.
Shepherd, S. A. & Thomas, I. M. (1982) Marine Invertebrates of Victoria, Pt. 1. South Australian Government Printer, Adelaide.
Underwood, A. J. & Chapman, M. G. (1993) Seashores: a beachcomber's guide. New South Wales University Press, Sydney.