Australia is half tropical and half temperate. Most marine and shore organisms are either northern or southern in their distribution patterns. Some researchers only recognise this biogeographic pattern.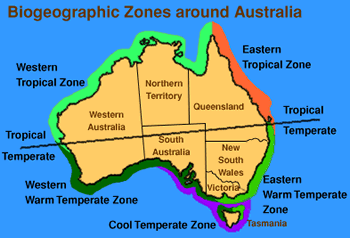 In eastern Australia the divide is not at the Tropic of Capricorn, but at latitude 25 deg. south, as a sharp distribution break in the vicinity of Fraser Island.
In Western Australia it occurs in the vicinity of 26 deg. south, with a more diffuse break between northern and southern distributions in the vicinity of Geraldton-Shark Bay.
There are some exceptions to this, with some endemic eastern and endemic western species.
Other researchers consider that there are five biogeographic zones around Australia with the southerly temperate divisions based on water temperature factors, which is influenced by the latitude.

---
References
Bennett, I. (1987) W. J. Dakin's classic study: Australian Seashores. p. 3-12, Angus & Robertson, Sydney.
Davey, K. (1998) A Photographic Guide to Seashore Life of Australia. p.8, New Holland, Sydney.