For a population of organisms to be able to continue to exist on any given shore, there must be an overall circular pattern to the ocean currents over time. If the organism's offspring are tiny plankton, it is necessary for them to be delivered back to a particular shore. If not, the species must become extinct on that shore.
Around Australia there are a number of major currents which influence coastal waters and the animal and algae plankton that are dependent upon them for transportation to a suitable habitat for growth and reproduction.
Some of these currents are:
SEC South Equatorial Current

EAC East Australian Current

TF Tasman Front

SAW Subantarctic Waters

(= west wind drift)

BSW Bass Strait Waters

LC Leeuwin Current

IOI Indian Ocean Inflow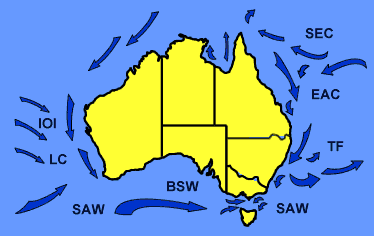 Map from
"Coastal and Marine Ecology of Temperate Australia"
edited by A.J. Underwood & M.G. Chapman.
UNSW Press, Chap.3 Planktonic Processes p.35

---
References
Bennett, I. (1987) W. J. Dakin's classic study: Australian Seashores. p. 3-12, Angus & Robertson, Sydney.
Davey, K. (1998) A Photographic Guide to Seashore Life of Australia. p.8, New Holland, Sydney.