Intertidal animals that occur above low-tide level have differing abilities to cope with being dried out by the sun. Some molluscs use a muscular foot to clamp down onto a rock, holding in moisture. Other molluscs have operculums, which are lids that accurately fit their shell aperture, holding in precious water. Many creatures that are able to move seek shelter from the sun under rocks or algal fronds, or in crevices, burrows, or rock pools. Desiccation is probably the major environmental problem that must be solved by intertidal organisms.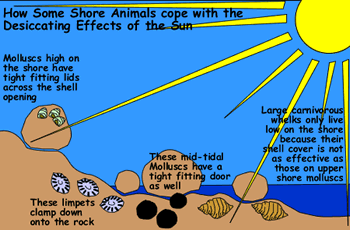 ---
References
Bennett, I. (1987) W. J. Dakin's classic study: Australian Seashores. p. 3-12, Angus & Robertson, Sydney.
Davey, K. (1998) A Photographic Guide to Seashore Life of Australia. p.8, New Holland, Sydney.
Environmental Factors
Latitude
Currents
Wind Effects
Wave Strength
Tidal Effects
Desiccation
Substrate
Turbidity
Salinity

---
Home Page
Taxonomy
Biogeography
Rocky Shores
Tidal Levels
Intertidal Zonation
Environmental Factors
Biological Factors
Feeding Relationships
Activities
Glossary
References