Southern Australia:
Waters along southern shores in Australia are normally quite clear.
During periods of heavy rain and associated lowland flooding, mud may be carried down river and carried out through the river mouth to be deposited as a delta formation. In southern Australia, infrequently, either side of a river mouth is occasionally smeared with floodwater mud.
Near our cities, estuary, river and lake water pollution is becoming an increasing problem.
Question:
What can be done to decrease estuarine water pollution ?
Northern Australia:
In northern Australian embayments, especially where the large freshwater rivers enter the sea, turbid waters are thick with sediment during the annual monsoon season. Huge volumes of water carry huge volumes of phosphate-loaded mud, especially off agricultural land. This could be a major problem for the Great Barrier Reef.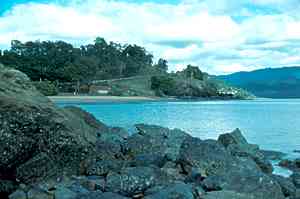 All along the Queensland coast, north of Hervey Bay, the coastal shore often resembles a muddy estuary. On many rocky shores there is a fine layer of mud.
The rocky shores of Airlie Beach are coated with a fine layer of mud at low tide.
This suits creatures such as certain species of nerite mollusc, star limpets, cthahamlid barnacles, decapod crabs and holothurians, but excludes others. Some species of coral are suited to this muddy environment.
Instead of sand shores, many beaches in northern Australia are composed of sharp, angular, broken coral and shell debris. Algae is fairly rare in tropical Australia.

---
References
Bennett, I. (1987) W. J. Dakin's classic study: Australian Seashores. p. 3-12, Angus & Robertson, Sydney.
Davey, K. (1998) A Photographic Guide to Seashore Life of Australia. p.8, New Holland, Sydney.