There are many types of activity which you can do on the shore. You may:
1. Visit an estuary in a boat. Ensure you have safety jackets with you and that someone in your group is familiar with boating rules and safety.
2. Look at the vegetation which surrounds an estuary. What types of trees and bushes occur near water? What animals live there? Can you see evidence of pollution? What can you do about it in your daily life?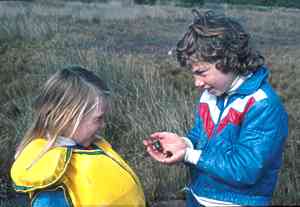 3. Visit the estuaries and look at the tidal flats and seagrass areas. What types of plant are found here. Are they like land plants or algae? What animals live here? What environmental factors make this an interesting place to live?
4. Make a point of visiting a mangrove forest. Do the trees alter the environment? What animals and plants live here? What adaptations do they have to allow them to live here?
4. Look out from cliffed coasts. Visit lighthouses, and get a bird's eye view of the nearby geographical and geological formations. Can you see any rocky shores? Describe their major features? What types of bird live near the ocean shore? How do they catch their food?
5. Walk carefully through vegetated, and wind-swept sand dunes. See the hardy plants that are adapted to retaining a foothold in this loose, sandy environment. Look for animal tracks on the sand. What do they tell you?
6. Visit a rocky shore platform. Wear strong shoes and a broad rimmed hat. What microhabitats can you find? What algae can you see? How many different types of animal can you observe. What are they doing? Don't expect to rush this, sit down a few minutes until the animal's are comfortable with you being there.
7. Coastal Villages are an interesting place to roam around. Does any business or shop have anything to do with the sea, estuary, fishing or boating. Look for evidence of historical activities that show how humans have used the sea or estuary.
8. Look at some of the books and resources below for great ideas for field excursions, field trips and shore activities. They have been designed by teachers and are excellent resource materials.
9. Join a group interested in Marine and Estuarine Studies such as Gould League. or arrange to have your school visit one of the fascinating Field Studies Centres or Marine Centres listed below.
Field Trips
Resource Centres
If you have a particular interest, contact the organisations below and ask for information and assistance.
Marine Discovery Centre, Queenscliffe
PO Box 138, Queenscliffe, Victoria, 3225
ph: 052 523344 fax: 052 521435
www.vicnet.gov.au


Narrabeen Coastal Environment Centre
Lake Park Rd., North Narrabeen
PO Box 522 Narrabeen, NSW 2101
ph: 02 99706905 fax: 02 99706907

Boyne Island Field Studies Centre
Boyne Island, Qld. 4680
ph: 079 737312
Maroon Outdoor Education Centre
Mail Service 488
Boonah, Qld. 4310
ph: 075 636164


Kooragang Rehabilitation Project
C/- The Wetlands Centre - Shortland
Sandgate Road, Shortland NSW
ph: 02 49516466


Botany Bay Field Studies Centre
Kurnell, NSW 2231
ph: (w) 02 6241 8230


Woodbridge Marine Studies Centre
Woodbridge, Tasmania. 7162


Jacobs Well Field Study Centre
Jacobs Well, Qld.

Cairns Marine Studies Centre

Resource Organisations
MESA - Marine Education Society of Australia. Write to
MESA, PO Box 461, East Bentleigh, Victoria, 3165.
Visit MESA's website at http:www.mesa.edu.au
Contact MESA for details of Seaweek activities, every March.

Coastcare
NSW State Coordinator
3/437 Hunter Street, Newcastle 2300
ph: 02 49605052 fax 02 49605055
email coastcare@dlwc.nsw.gov.au
website: www.erin.gov.au/marine.coastcare/


The Gould League: Has an amazing number of wonderful books about the seashore, its environment, algae and animals. You can ask them for a Catalogue, Price List and Order Form from:
The Gould League, Genoa Street, Moorabbin, Vict. 3189
and visit their web site at http:www.gould.edu.au
See the Reference List below for some of their great books and resources.


Great Barrier Reef Marine Park Authority
PO Box 1379, Townsville, Qld. 4810
ph: 077 712191
www.gbrmpa.gov.au

Resource WebSites
Environment Australia: www.environment.gov.au
Community Biodiversity Network: www.cbn.org.au
Marine and Coastal Community Network: www.ozemail.com.au/~mccnet
---
References:
Davey, K. (1998). A Photographic Guide to the Seashore Life of Australia. New Holland Press, Sydney.
Gould League (1999). Australian Guide to Seashores. Gould League of Victoria.
Gould League (1984). Coastal Survival. Gould League of Victoria.
Gould League (1998). Seahorses & Seadragons Poster.
Reid, A. & Beckett, A. (1992). Coasting: activities for coastal excursions and beach holidays. Gould League, Melbourne.
Swartz, J. & Tsernjavski, N. (1994). Riding the Tide: activities for marine studies. Gould League and Victorian Institute of Marine Sciences.
Tsernjavski, N. (1994). A. B. Sea: a cross curriculum marine studies guide for Prep - Year 12. Victorian Institute of Marine Sciences Education Division. Warrawee Publications.