Rockpool Rambles
There can be no substitute for visiting your local ocean shore to experience the environment and the animals and algae that live there.
When you get there. Sit down. Remain still.... and observe.
Work out the life and death interplay between the tiny animals in front of you. See how they live out their lives totally oblivious of your existence.
Do not disturb them.
They have the right to be there,... doing what they do.
If possible write down what you observe on the spot.
If you wait until later, you will forget much of the detail which makes every life story absolutely fascinating and unforgettable.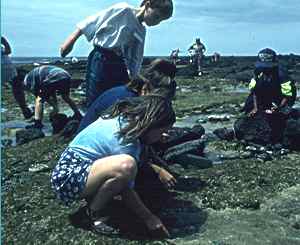 These children at Barwon Heads in Victoria are obviously fascinated by what they are discovering. The feeling of exploration and the thrill of finding something new is infectious. The excitement of a group of children on a rocky shore is obvious.
This field trip for a school group was organised by the Marine Discovery Centre Queenscliffe, Victoria.
Even though there are similarities on shores found within any biogeographic zone, if you look close enough you will soon realise that every shore is different in lots of different ways.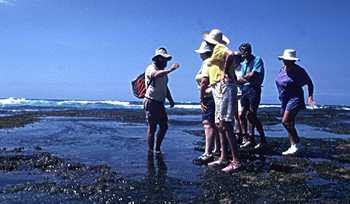 But it isn't just children who enjoy a rocky shore ramble. On this Coastcare Summer Activity Program day for the public at Norah Head Rock Platform, 60 people of all ages chose to participate. It was a really great afternoon. Everyone really enjoyed the experience.

---
References:
Marine Discovery Centre
Weeroona Parade
P.O. Box 114
Queenscliffe, Victoria, 3225
ph: 03 5258 3344