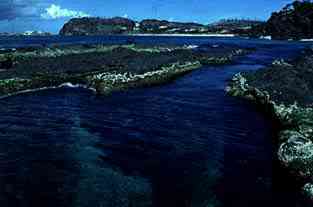 Between the beaches there are rocky headlands. Some dip steeply into the ocean, while others are more gently sloping, or even horizontal to the water surface.
Some rocky shores are strongly contorted and broken, such as this headland above at Seal Rocks, New South Wales, while others form flat or horizontal platforms and reefs. Every rocky headland type has a wide range of habitats and microhabitats, available for colonisation by animals and algae.
Some of the different types of rocky shore are:

---
References
Bennett, I. (1987) W. J. Dakin's classic study: Australian Seashores. p. 3-12, Angus & Robertson, Sydney.
Davey, K. (1998) A Photographic Guide to Seashore Life of Australia. p.8, New Holland, Sydney.