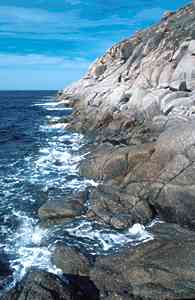 Large granite domes form a distinctive shoreline in Tasmania, some South Australian capes and in south-western Australia. These dome-like formations are locally known as "turtlebacks". These rounded domes plunge into the sea with no associated reefs or platforms.
This is the granite dome at Victor Harbor in South Australia.
On these domes, only a narrow band of almost vertical rock is intertidal. It is not a particularly good habitat, so not many species are adapted to live here.
The animals and algae found here are very hardy, because they are subjected to the full force of huge cold-water waves, and fierce storms from the Southern Ocean.

---
References
Bennett, I. (1987) W. J. Dakin's classic study: Australian Seashores. p. 3-12, Angus & Robertson, Sydney.
Davey, K. (1998) A Photographic Guide to Seashore Life of Australia. p.8, New Holland, Sydney.