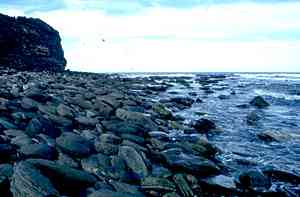 Boulder Shores are fascinating places. Here there are numerous, globe to egg-shaped boulders of various sizes.
On high-energy shores smashing against a boulder beach, life can be precarious, since the boulders can be moved around by the force of storm waves.
This is the Tudibaring Headland Boulder Scree Platform at Copacabana, New South Wales.
In more sheltered locations the boulder spaces form a particularly good environment for a wide range of animals to hide. Reef Crabs, Ozius truncatus, and Variegated Rock Crabs, Leptograpsus variegatus, are common here.
Click here to see where barnacles live on a boulder shore.

---
References
Bennett, I. (1987) W. J. Dakin's classic study: Australian Seashores. p. 3-12, Angus & Robertson, Sydney.
Davey, K. (1998) A Photographic Guide to Seashore Life of Australia. p.8, New Holland, Sydney.