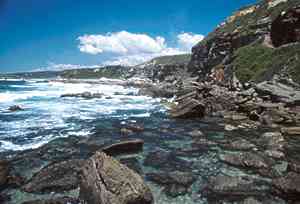 Between Newcastle and Kiama, New South Wales, vast intertidal wavecut platforms composed of the Hawkesbury Sandstone formation form extensive horizontal surfaces that suit many species of intertidal algae and creatures. This Sandstone Shore is at Swansea heads near the entrance to Lake Macquarie, New South Wales.
Where waves undercut a cliff, large angular blocks collapse onto the rock platform and weather into rounded boulders. On some headlands such as at Tudibaring Headland at Copacabana, New South Wales, this has created a boulder shore.
The waves dissipate most of their energy as they roll across the wide expanse of platform.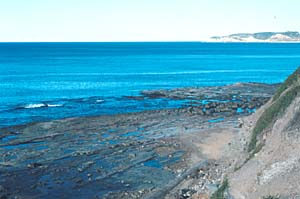 In rock pools, along cracks and gutters, and under boulders lying on rock and sand, numerous protected microhabitats occur.
Algae clumps, such as Neptune's Necklace, Hormosera banksii, also form a protective cover.
These sandstone shores, under certain protected conditions, form some of the most prolific intertidal habitats in Australia.

---
References
Bennett, I. (1987) W. J. Dakin's classic study: Australian Seashores. p. 3-12, Angus & Robertson, Sydney.
Davey, K. (1998) A Photographic Guide to Seashore Life of Australia. p.8, New Holland, Sydney.