Limestone or sand-rock shores are found in parts of Victoria and South Australia and are extensive in Western Australia and in the Northern Territory.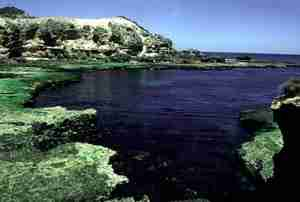 This is Cape Schanck at the southern tip of the Mornington Peninsula in Victoria. It is such a spectacular landscape and environment that it is part of the Point Nepean National Park.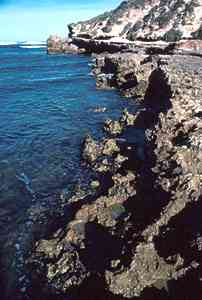 Limestone Shores form distinctively eroded landscapes, becoming twisted and contorted as they are eaten away by weathering and wave power.
These form long, wide horizontal platforms and reefs backed by steep cliffs. Horizontal platforms are uncovered at low tide, while lower limestone reefs are swashed over by waves, even when the tide is at its lowest.
This is Pondalowie Bay in the Eyre Peninsula of South Australia.
Limestone shores, with their pitted and broken surfaces, deep gutters and channels, are excellent habitats for many intertidal species.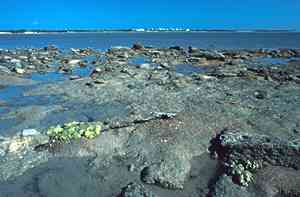 This is the sandstone-beachrock shore at Darwin, in the Northern Territory.
Here there is many metres difference between low and high tide each day. Each day the tide comes in and out for kilometres across the flat, wide shoreline.

---
References
Bennett, I. (1987) W. J. Dakin's classic study: Australian Seashores. p. 3-12, Angus & Robertson, Sydney.
Davey, K. (1998) A Photographic Guide to Seashore Life of Australia. p.8, New Holland, Sydney.