Class Echinodea: Sea Urchins
Sea Urchins are globe-shaped or mildly flattened animals. They have an outer, solid, skeletal structure called a test, which consists of hundreds of interlocking, spine-bearing, calcareous plates.
The test is divided into five segments. All wall plates carry moveable spines, hinged onto knob-shaped tubercles.
The primary spines may vary in shape, while secondary spines usually have little sculpture.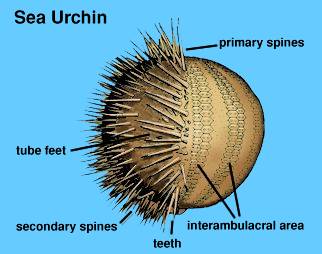 Sea Urchins are scavengers that feed on algae and animal remains.
Sea Urchins move on hydraulic tube feet in much the same way as Sea Stars.

Common Sea Urchin, Heliocidaris erythrogramma. Found at low tide levels, in pools and gutters around southern Australia. If you are swimming and stand on one, its spines may stick into your foot and break off, being very difficult to dig out.

Thickened Sea Urchin, Holopneustes pycnotilus. A beautiful pink coloured, globe-shaped sea urchin with a small distribution range along central New South Wales.
For more information on Echninoderms visit MESA Echinoderms
---
References:
Bennett, I. (1987) W.J. Dakin's classic study: Australian Seashores. Angus & Robertson, Sydney.
Davey, K. (1998) A Photographic Guide to Seashore Life of Australia. New Holland, Sydney.
Edgar, G.J. (1997) Australian Marine Life: the plants and animals of temperate waters. Reed Books, Kew.
Quinn, G.P., Wescott, G.C. & Synnot, R.N. (1992) Life on the Rocky Shores of South-Eastern Australia: an illustrated field guide. Victorian National Parks Association, Melbourne.
Marine Research Group of Victoria (1984) Coastal Invertebrates of Victoria: an atlas of selected species. Museum of Victoria, Melbourne.