Form: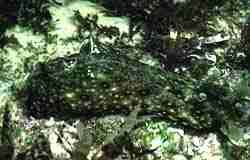 Medium-sized long, sea hare. The shell can be seen within the mantle flaps. This internal shell is smooth, very thin and shaped like a shield.
The shell is convex (shaped upwards) on the top surface, so that the apex is mildly curved inwards.
Colour:
Colour of the animal is dark brown to almost black, with little or no mottling. The mottling is of irregularly shaped brown blotches, with brown to black streaks on the head. The fine black lines which overlay the basic pattern never form rings. The shell is brown.
| | | | |
| --- | --- | --- | --- |
| Phylum: | Mollusca | Author: | Sowerby, 1869 |
| Family: | Aplysiidae | Size: | 150 mm |
Distribution:

The Sydney Sea Cow ranges from southern Queensland around southern Australian shores to south-western Australia.
Habitat:
It occurs at low tide levels in pools, often under stones.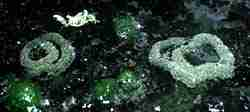 It appears to be a frequent visitor to the shore during summer, when its lays its long yellow-coloured egg masses near the low tide mark.
Biology:
When disturbed, the animal can move through the water quickly using its 'swimming lobes'. If further disturbed, it can release a purple fluid which stains the nearby water for some metres.
---
References:
Bennett, I. (1987) W. J. Dakin's classic study: Australian Seashores. p.204, Angus & Robertson, Sydney.
Davey, K. (1998) A Photographic Guide to Seashore Life of Australia. p.120, New Holland, Sydney.
Edgar, G. J. (1997) Australian Marine Life: the plants and animals of temperate waters. Reed Books, Kew.
Shepherd, S. A. & Thomas, I. M (1982) Marine Invertebrates of Victoria, Pt. 1. p.746, South Australian Government Printer, Adelaide.