Form: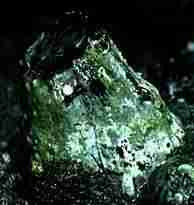 The Giant Rock Barnacle Barnacle is a very large barnacle, both tall and wide, with six distinct steep-sided marginal or side-plates, marked with transverse lines.
The shell plates are often eroded and encrusted with marine algae and organisms.
This is the largest of the Australian barnacles.
Colour: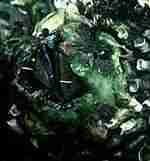 The outside of the Giant Rock Barnacle shell plates are white to pale green in colour. Inside the operculum, the valves have a distinctive bright caerulean blue mantle, which is characteristic of the species.
Distribution:

The Giant Rock Barnacle occurs from New South Wales , down to Victoria, ranging into Western Australia. Although it is rare in Tasmanian waters, it is common on the shores of Deal Island in Bass Strait.
Habitat:
The Giant Rock Barnacle is found low on the shore at and below low tide level on rocky shores where there is medium to strong wave action.
It commonly occurs on steep rock faces, pounded by the surf. It may occur singly or in groups.
---
References:
Bennett, I. (1987) W. J. Dakin's classic study: Australian Seashores. p.245, Angus & Robertson, Sydney.
Davey, K. (1998) A Photographic Guide to Seashore Life of Australia. p.44, New Holland, Sydney.
Marine Research Group of Victoria (1984) Coastal Invertebrates of Victoria: an atlas of selected species. p.108, Museum of Victoria, Melbourne.
Underwood, A. J. & Chapman, M. G. (1993) Seashores: a beachcomber's guide. p.36, New South Wales University Press, Sydney.