Form: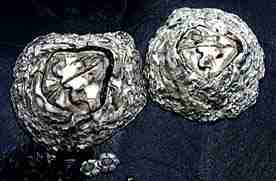 The Surf Barnacle is a distinctively flattened barnacle with eight main shell plates, surrounded by many smaller plates, becoming smaller towards the lower edge. Even in eroded specimens the outer plates are still distinctive.
Colour:
The exterior colour of the Surf Barnacle is grey-white with a greenish tinge.
Distribution:

It ranges from mid New South Wales south around southern Australia to Western Australia.
Habitat:
It occurs on most exposed rocky ocean shores exposed to high energy waves, at mid to low-tide levels. It prefers heavy wave action and spray. On some vertical rock faces it may be found in large numbers.
Biology:
The Surf Barnacle is normally found just above the Galeolaria tube worm zone.
Questions:
Why is this called the Surf Barnacle ?
Why does this barnacle prefer to live in areas with heavy wave action ?
---
References:
Bennett, I. (1987) W.J. Dakin's classic study: Australian Seashores. p.246, Angus & Robertson, Sydney.
Davey, K. (1998) A Photographic Guide to Seashore Life of Australia. p.40, New Holland, Sydney.
Edgar, G.J. (1997) Australian Marine Life: the plants and animals of temperate waters. p.172, Reed Books, Kew.
Quinn, G.P., Wescott, G.C. & Synnot, R.N. (1992) Life on the Rocky Shores of South-Eastern Australia: an illustrated field guide. p. 61, Victorian National Parks Association, Melbourne.
Marine Research Group of Victoria (1984) Coastal Invertebrates of Victoria: an atlas of selected species. p.104, Museum of Victoria, Melbourne.
Underwood, A.J. ( ) Science Field Guides: Barnacles. p.11, Reed Education, Sydney.
Underwood, A.J. & Chapman, M.G. (1993) Seashores: a beachcomber's guide. p.36, New South Wales University Press, Sydney.