Form: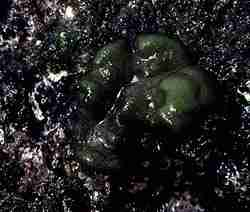 The Globe Algae is irregular in shape, globe-shaped, and crinkled in shape. This algae is sometimes twice as high as it is broad.
It's skin membrane is a thin, crisp wall filled with water and air.
The plant is usually attached to other algae, seagrasses or rock by a small, crusty base. Globe Algae is also called Bubbleweed.
Colour:
Globe Algae is light yellow or honey-brown to dark brown in colour.
| | | | |
| --- | --- | --- | --- |
| Phylum: | Phaeophyta | Author: | Mertens ex Roth: Derbes & Solier 1851 |
| Family: | Scytosiphonaceae | Size: | 40 - 60 mm wide |
Distribution: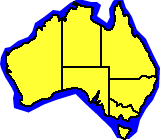 Widely found in most oceans. Found all around Australia, but preferring tropical and temperate shores. It seems to be more common in summer.
Habitat:
Occurs from mid-tide level and below, being common in rock pools. Often attached to other algae, or seagrasses such as Posidonia in estuaries.
Biology:
This is the most common species of globe-shaped algae found attached to other plants in southern Australia.
Questions:
Which environments does this algae most commonly prefer ? Why ?
Does this algae prefer to live in areas with heavy wave action ? Why ?
---
References:
Bennett, I. (1987) W.J. Dakin's classic study: Australian Seashores. p.246, Angus & Robertson, Sydney.
Davey, K. (1998) A Photographic Guide to Seashore Life of Australia. p.40, New Holland, Sydney.
Edgar, G.J. (1997) Australian Marine Life: the plants and animals of temperate waters. p.172, Reed Books, Kew.
Quinn, G.P., Wescott, G.C. & Synnot, R.N. (1992) Life on the Rocky Shores of South-Eastern Australia: an illustrated field guide. p.61, Victorian National Parks Association, Melbourne.
Marine Research Group of Victoria (1984) Coastal Invertebrates of Victoria: an atlas of selected species. p.104, Museum of Victoria, Melbourne.
Underwood, A.J. ( ) Science Field Guides: Barnacles. p.11, Reed Education, Sydney.
Underwood, A.J. & Chapman, M.G. (1993) Seashores: a beachcomber's guide. p.36, New South Wales University Press, Sydney.