Form: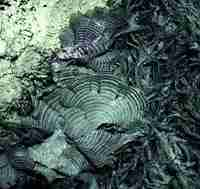 Fan-shaped fronds, entire when young, but dissected when older. Distinctive, flattened fan-shaped thallus with concentric markings and rolled edges.
Attaches to rock by rhizoids Branched only in one plane, with thin fronds, often lacerated from edge to base.
Colour:
Light olive-brown, with lighter concentric markings.
| | | | |
| --- | --- | --- | --- |
| Phylum: | Phaeophyta | Author: | Linnaeus, Lamourou |
| Family: | Dictyotaceae | Size: | 40 - 120 mm |
Distribution:

A tropical genus, with 2-3 species extending down New South Wales and Western Australia, but only one species in southern Australian waters. This species occurs along eastern Australia.
Habitat:
A common brown, fan-shaped algae of the lower rock pools and reef edges. Occurs at the low tide fringe and below, on rocky ocean shores, usually in rock pools and at reef fringes in moderately exposed situations.
Biology:
Exposes its open fronds to the light, but not to dryness.
---
References:
Bennett, I. (1987) W.J. Dakin's classic study: Australian Seashores. p. 139, Angus & Robertson, Sydney.
Davey, K. (1998) A Photographic Guide to Seashore Life of Australia. p.24, New Holland, Sydney.
Edgar, G.J. (1997) Australian Marine Life: the plants and animals of temperate waters. p. 49, Reed Books, Kew.
Womersley, H.B.S. (1987) The Marine Benthic Flora of Southern Australia. pt. 2 , p. 216, South Australian Government Printer, Adelaide.