Form: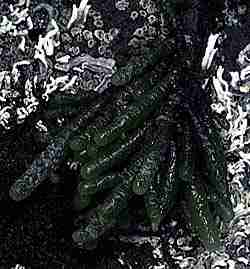 Sausage Weed is a distinctive algae with short, swollen stems ( 8 to 20 cm) similar in appearance to fingers. They are filled with gelatinous material.
It looks like a clump of small, wrinkled sausages. Small pores on the outside surface lead to the reproductive chambers. There is a small, disk-shaped, rhizoidal holdfast. It appears to be like a small Hormosera, but lacks the joints.
Colour:
Medium to dark brown.
| | | | |
| --- | --- | --- | --- |
| Phylum: | Phaeophyta | Author: | (Linnaeus) Grenville, 1830 |
| Family: | | Size: | Chordariales |
Distribution:

Ranges from Newcastle, New South Wales around Australia's southern shores to Point Sinclair in South Australia, including Tasmania. Also South Africa, New Zealand and the more northerly of the Subantarctic islands.
Habitat:
Occurs at mid tidal levels on moderate to rough-water coasts. It is seen during the summer moths in New South Wales, but is found all year on southern shores. It forms a distinctive bands on rocks at the mid-tide level. When exposed at low tide, the plants hang down across the rock face.
---
References:
Bennett, I. (1987) W.J. Dakin's classic study: Australian Seashores. p.140, Angus & Robertson, Sydney.
Davey, K. (1998) A Photographic Guide to Seashore Life of Australia. p.23, New Holland, Sydney.
Edgar, G.J. (1997) Australian Marine Life: the plants and animals of temperate waters. p.45, Reed Books, Kew.
Womersley, H.B.S. (1987) The Marine Benthic Flora of Southern Australia. pt. 2 , p.142, South Australian Government Printer, Adelaide.