Form: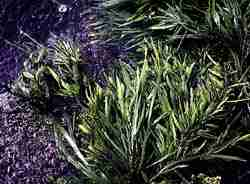 Recognised by its sawtooth-edged fronds and many elliptical spindle-shaped bladders at the end of short stalks, and not at the base of leafy fronds.
The bladders keep the fronds upright in the water so that they are more exposed to the sunlight. The holdfast is 1 - 6 cm across. Its fronds are more smooth, narrower and less leaf-like than Macrocystis.
Colour:
A characteristic light olive green with a yellow to golden tint.
| | | | |
| --- | --- | --- | --- |
| Phylum: | Phaeophyta | Author: | (Labillardiere) C. Agardh |
| Family: | Seirococcaceae | Size: | 1.5 - 2.0 metres |
Distribution:

Found from Port Macquarie, New South Wales, south and west to Robe in South Australia.
Habitat:
Occurs on rough water coasts at lowest tide levels and below and in deep pools. In Tasmania down to 18 metres. Generally occurs as a dense band above Ecklonia radiata.
Biology:
Phyllospora is a sinuous, beautiful looking algae when it is being swashed around in the surging water. It is among the most common large algae in shallow water around the southeast Australian coast. Also known as Bladder Weed, Bubble Weed or Popweed.
---
References:
Bennett, I. (1987) W.J. Dakin's classic study: Australian Seashores. p.135, Angus & Robertson, Sydney.
Davey, K. (1998) A Photographic Guide to Seashore Life of Australia. p.27, New Holland, Sydney.
Edgar, G.J. (1997) Australian Marine Life: the plants and animals of temperate waters. p.59, Reed Books, Kew.
Quinn, G.P., Wescott, G.C. & Synnot, R.N. (1992) Life on the Rocky Shores of South-Eastern Australia: an illustrated field guide. p.19, Victorian National Parks Association, Melbourne.
Womersley, H.B.S. (1987) The Marine Benthic Flora of Southern Australia. pt. 2 , p.347, South Australian Government Printer, Adelaide.