Form:
This seastar normally has eight arms, but sometimes 7 and 9 armed individuals are found. This is a moderately large seastar with clear-cut, short, tapering, pointed arms.
Colour: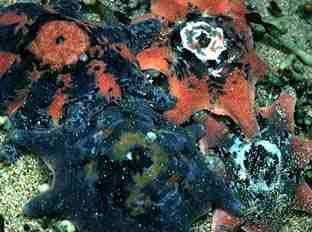 The colour on top is extremely varied and often beautiful. Colours may include many colours of the spectrum including white, grey, cream, orange, red, brown, green, blue, mauve and black, often mottled and varied. Underneath uniformly pale.
Distribution:

The Eight-armed Seastar ranges from Currumbin in south-eastern Queensland, south through New South Wales, and Victoria, South Australia to the south coast of Western Australia, including the west coast of Tasmania.
Habitat:
This is one seastar which is restricted to the tidal region and just below. Abundant in shallow rock pools, in cracks and in deep pools near the low tide region. Many often occurring together.
Biology:
Omnivorous, feeding on algae, detritus, molluscs and dead flesh.
---
References:
Bennett, I. (1987) W.J. Dakin's classic study: Australian Seashores. p.346-7, Angus & Robertson, Sydney.
Clark, H.L., (1946), The Echinoderm Fauna of Australia; Its composition and origin. p.134-5, Carnegie Institution of Washington, Publication 566, Washington, D.C.
Davey, K. (1998) A Photographic Guide to Seashore Life of Australia. p.129, New Holland, Sydney.
Edgar, G.J. (1997) Australian Marine Life: the plants and animals of temperate waters. p.345, Reed Books, Kew.
Quinn, G.P., Wescott, G.C. & Synnot, R.N. (1992) Life on the Rocky Shores of South-Eastern Australia: an illustrated field guide. p.80, Victorian National Parks Association, Melbourne.
Marine Research Group of Victoria (1984) Coastal Invertebrates of Victoria: an atlas of selected species. p.135, Museum of Victoria, Melbourne.
Shepherd, S.A. & Thomas, I.M. (1982) Marine Invertebrates of Victoria, Pt. 1. p.412, South Australian Government Printer, Adelaide.
Underwood, A.J. & Chapman, M.G. (1993) Seashores: a beachcomber's guide. p.44, New South Wales University Press, Sydney.