Form: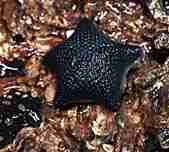 The Small Green Seastar is a small pentagonal seastar with five short arms just protruding beyond the skirt. Its dorsal plates are not well defined, and it has short spines over its surface.
Colour:
Dark green to bluish dorsally with a light colour ventrally.
Distribution:

The Small Green Seastar ranges from northern New South Wales, around southern Australia to Port Lincoln, South Australia, including Tasmania.
Habitat:
Occurs up to mid and high tide levels, in the open and under rocks in areas of constant wave splash, and in rock pools. Often found where there is the brown algae Neptune's Necklace, Hormosera banksii.
---
References:
Bennett, I. & Dakin W.J. ,(1987) Australian Seashores: W.J. Dakin's classic study. p. 346, Angus & Robertson, North Ryde
Marine Research Group of Victoria (1984) Coastal Invertebrates of Victoria, p.135, Museum of Victoria
Davey, K. (1998) A Photographic Guide to Seashore Life of Australia. p. 129, New Holland Press, Frenchs Forest.
Shepherd, S.A. & Thomas, I.M. (1989) Marine Invertebrates of Southern Australia. part I: p.413, South Australian Government Printer.