Form: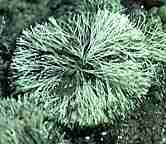 Coralline Seaweed is a feather-like red algae with very small, fine, neatly jointed branches. It has thickened main stems, made up of jointed segments. These extend in straight rows away from the holdfast.
Algae do not have roots which take in nutrients like land plants. A holdfast only holds the algae down onto the substrate.
Along each stem, at every second or third joint, on each side lateral, jointed branches grow.
From each branched joint, other spikes emerge to form a flattened, feather-like frond.
Colour:
Coralline Seaweed is pinkish white in colour.
| | | | |
| --- | --- | --- | --- |
| Phylum: | Rhodophyta | Author: | |
| Family: | Corallinaceae | Size: | 25 mm |
Distribution: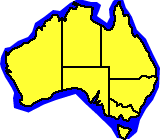 Coralline Seaweed is distributed widely around all of Australia.
Habitat:
It occurs in rock pools and on moist rock surfaces at the low-tide level.
Biology:
Coralline Seaweed plants are very conspicuous when they have been dried out by the sun and form distinctive limy-white tufts on the rocks.
The name "officinalis" means that this algae was formerly used as a medicine. It was regularly kept in a pharmacist's stock to be used as an antacid.
Questions:
Can you find out why this algae was used as a medicine? What did it cure ?
---
References:
Bennett, I. (1987) W.J. Dakin's classic study: Australian Seashores. p.142-3, Angus & Robertson, Sydney.
Davey, K. (1998) A Photographic Guide to Seashore Life of Australia. p.29, New Holland, Sydney.
Edgar, G.J. (1997) Australian Marine Life: the plants and animals of temperate waters. p.86, Reed Books, Kew.
Quinn, G.P., Wescott, G.C. & Synnot, R.N. (1992) Life on the Rocky Shores of South-Eastern Australia: an illustrated field guide. p.21, Victorian National Parks Association, Melbourne.
Underwood, A.J. & Chapman, M.G. (1993) Seashores: a beachcomber's guide. p.24, New South Wales University Press, Sydney.