Form: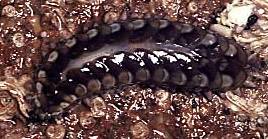 The Scale Worm is a short, compact worm with 12 pairs of overlapping scales, called elytra, covering the upper surface.
Each scale is marked a distinctive C-shaped brown pattern. The scales may shed if touched. This worm has two pairs of eyes, and two single side antennae.
Colour:
The Scale Worm is light fawn or grey in colour. Each scale is marked with a distinctive c-shaped brown pattern.
| | | | |
| --- | --- | --- | --- |
| Phylum: | Annelida | Author: | Dana |
| Family: | Polynoidae | Size: | 30 - 50 mm |
Distribution:

Ranges along the New South Wales coast and then skips Victoria to reoccur in South Australia across to southern Western Australia.
Habitat:
The Scale Worm is found at low tide on rocky shores
Biology:
Polynoid worms like the Scale Worm are active predators capturing food using a reversible armed pharynx, which it swiftly inverts like a finger on a rubber glove. The sharp mandibles at the end are used for capturing unsuspecting prey.
---
References:
Bennett, I. (1987) W.J. Dakin's classic study: Australian Seashores. p.185, Angus & Robertson, Sydney.
Davey, K. (1998) A Photographic Guide to Seashore Life of Australia. p.39, New Holland, Sydney.
Edgar, G.J. (1997) Australian Marine Life: the plants and animals of temperate waters. p.157, Reed Books, Kew.