Form: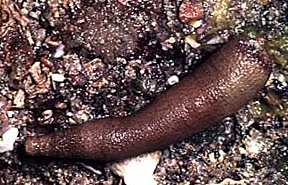 The Peanut Worm has a flask-shaped, almost cylindrical body, which is pointed at the front end.
When resting, its body is normally introverted, like a finger on a glove turned in on itself. But when seeking prey, the animal can extend itself rapidly. The mouth, mandibles and feeding tentacles are at the front end of this extrovert. See worm feeding.
The Peanut Worm's body lacks segmentation but is covered with fine granules.
Colour:
Its colour is brown to light-brown, slightly darker at the ends.
| | | | |
| --- | --- | --- | --- |
| Phylum: | Sipuncula | Author: | Stimpson, 1855 |
| Family: | Sipunculidae | Size: | 12 - 65 mm |
Distribution:

The Peanut Worm ranges from Port Stephens, in N.S.W. around the southern shores to Hopetoun, in Western Australia, and around Tasmania.
Habitat:
It occurs on sheltered and moderately exposed reefs at low tide levels and below to 1500 metres. It is usually found under stones embedded in sand or gravel, or in Galeolaria tube-worm colonies.
---
References:
Bennett, I. (1987) W.J. Dakin's classic study: Australian Seashores. p.198, Angus & Robertson, Sydney.
Davey, K. (1998) A Photographic Guide to Seashore Life of Australia. p.39, New Holland, Sydney.
Edgar, G.J. (1997) Australian Marine Life: the plants and animals of temperate waters. p.163-4, Reed Books, Kew.