Form: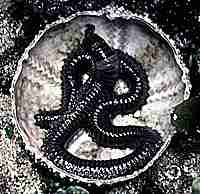 Eunice is a long, multi-segmented, robust bodied predatory worm and one of the largest polychaetes in the world.
It has two eyes and five tentacles. Its unusual feeding structure, called a pharynx, or proboscis, turns inside out, like the finger of a glove, to capture prey. Sharp mandibles, at the pharynx end can give a nasty bite.
There are numerous body segments which look like joined-together rings. On the both sides of each ring is a pair of movement lobes called parapodia. Each parapodia is tipped with bundles of bristles, called setae or cirri.
"Para" means "like" and "podia" means "legs"..
Colour:
Overall colour is is dark purple-brown to red-brown, with a purple iridescence. There is a white ring around the fourth body segment.
| | | | |
| --- | --- | --- | --- |
| Phylum: | Annelidae | Author: | Quatrefages |
| Family: | Eunicidae | Size: | 500 - 1000 mm |
Distribution:

Eunice species are widespread around the world. In Australia this form ranges around southern shores from south-eastern Queensland to Geraldton in Western Australia.
Habitat:
Eunice occurs under stones lying in sand or mud at low tide level, and below, on rocky shores.
---
References:
This species name is now in question. The common form in southern Australia is called Eunice aphroditois in most references, but Edgar is uncertain, and thinks it may be something else. Edgar is using the name Eunice tentaculata.
Bennett, I. (1987) W.J. Dakin's classic study: Australian Seashores. p. 190, Angus & Robertson, Sydney.
Davey, K. (1998) A Photographic Guide to Seashore Life of Australia. p. 37, New Holland, Sydney.
Edgar, G.J. (1997) Australian Marine Life: the plants and animals of temperate waters. p. 159, Reed Books, Kew.
Shepherd, S.A. & Thomas, I.M. (1982) Marine Invertebrates of Victoria, Pt. 1. p. 257, South Australian Government Printer, Adelaide.