Form: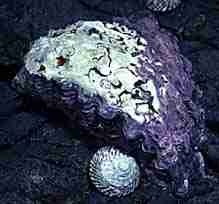 The Commercial Edible Oyster has a solid and irregularly shaped shell. The lower (left) valve which attaches to rock, or other solid object, becomes modified by its growth. It forms a cavity for the oyster viscera.
The upper (right) valve is flattened and fits into the irregularities of the left valve. While the upper valve is flattish, with only a few scales near its outer edge, the lower valve is sculptured with several thick ribs crossed by concentric scales. The oyster has a single, strong adductor muscle to close the shell.
Colour:
Exterior bluish-white. Interior whitish, with blue-black markings.
| | | | |
| --- | --- | --- | --- |
| Phylum: | Mollusca | Author: | Born, 1778 |
| Family: | Ostreidae | Size: | Ostracea, Ostreidae |
Distribution:

The Commercial Oyster ranges from southern Queensland to eastern Victoria.
Habitat:
Occurs at high- to mid-tide level, on shores which are subjected to the influence of fresh water. On the coast it is often found at the base of a cliff, where a small freshwater soak dampens the rock.
Biology:
This species is harvested as a delicacy along eastern New South Wales in estuaries. However this extensive oyster industry is now under threat by the invasion of the Pacific Oyster which is a more prolific breeder and has a faster growth rate.
---
References:
The Commercial Oyster has had many scientific names, and it seems to have a different name in every identification or research text. Some of the names are Saccostrea commercialis, Crassostrea sp. , Ostrea virginica, Saxostrea sp. , Saccostrea cucculata, and it is also well known as the Sydney Rock Oyster.
Bennett, I. (1987) W.J. Dakin's classic study: Australian Seashores. p.321, Angus & Robertson, Sydney. (As Saccostrea cucullata).
Davey, K. (1998) A Photographic Guide to Seashore Life of Australia. p.126, New Holland, Sydney (As Saccostrea glomerata).
Edgar, G.J. (1997) Australian Marine Life: the plants and animals of temperate waters. p.295, Reed Books, Kew. (As Saccostrea commercialis).
Quinn, G.P., Wescott, G.C. & Synnot, R.N. (1992) Life on the Rocky Shores of South-Eastern Australia: an illustrated field guide. Victorian National Parks Association, Melbourne. (As Crassostrea commercialis)
Marine Research Group of Victoria (1984) Coastal Invertebrates of Victoria: an atlas of selected species. Museum of Victoria, Melbourne. (As Crassostrea commercialis).
Macpherson, J.H. & Gabriel, C.J. (1962) Marine Molluscs of Victoria. Melbourne University Press & The National Museum of Victoria (as Saccostrea [Ostrea commercialis]).