Form: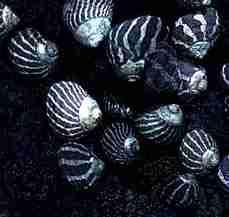 This is the common zebra-striped, ribbed top shell. The shell is conical and globe-shaped with a sharp apex.
It is very similar in shape to the more southern Ribbed Top Shell, Austrocochlea constricta, and until recently, the two have been considered to be the one species.
The Zebra Top Shell is distinguished by its less tall, broken spiral ridges and its distinctive banded colour pattern
Colour:
Zebra Top Shells have a very distinctive oblique black-and-white banded pattern overlying the light grey to white shell.
| | | | |
| --- | --- | --- | --- |
| Phylum: | Mollusca | Author: | G. B. Sowerby, 1834, 1835 |
| Family: | Trochidae | Size: | 25 mm across |
Distribution:

This Zebra Top Shell ranges from Townsville in Queensland around southern shores to Geraldton in Western Australia. It is very common in south-eastern Australia.
Habitat:
The Ribbed Top Shell often occurs in large numbers at mid-tide level and below on rocky ocean shores, especially in moist areas, in rock pools and in estuaries.
Biology:
It is unusual how the Zebra Striped Top Shell gains its striped shell pattern. At certain times of the year the algae it eats contains a substance that the mollusc excretes into its shell to form a darkened band. It is not known if the number of bands indicate the age of the Top Shell. What is interesting is that the bands occur in all variations of thickness from very thin to very wide.
---
References:
All other references refer to this species as Austrocochlea constricta.
Davey, K. (1989) A Photographic Guide to Seashore life of Australia, p. 88, New Holland Press.