Form: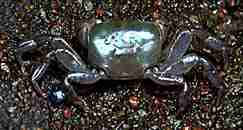 The carapace or shell of the Smooth Shore Crab is distinctive because of its smooth rounded edges without edge teeth. The carapace is wider than long. The chelae of male Smooth Shore Crab's are massive, occasionally of unequal size. The hand has a swollen crest on the inner surface.
It is difficult to distinguish Cyclograpsus audounii from its close relative C. granulosus, but C. audounii has tufts of long hair between the bases of the legs.
Colour:
There is great variation in colour in C. audouinii. On open coast specimens, the carapace is usually purple-brown with variable mottled patterns of red-brown, purple and yellow. Estuarine specimens are mottled with purple, dark-grey or brownish-grey.
| | | | |
| --- | --- | --- | --- |
| Phylum: | Arthropoda | Author: | H. Milne-Edwards, 1837 |
| Family: | Grapsidae | Size: | carapace 30 - 40 mm width |
Distribution:

The Smooth Shore Crab, C. audouinii, ranges from Hervey Bay in Queensland, south through New South Wales, Victoria, South Australia, and southern Western Australia to Bunbury. It also occurs in New Guinea.
Habitat:
The Smooth Shore Crab, C. audounii, is found at all tidal to sub-tidal levels, usually sheltering under rocks on both rocky and soft bottoms.
---
References:
Bennett, I.(1987) Australian Seashores: W.J. Dakin's classic study, p. 255, Angus & Robertson.
Davey, K. (1989), A Photographic Guide to Seashore Life of Australia. p.53, New Holland.
Edgar, G. J. (1989) Australian Marine Life: the plants and animals of temperate waters. p. 213, Reed.
Jones, D. & Morgan, G. (1994) A field guide to Crustaceans of Australian Waters, p. 186, Reed.
Marine Research Group of Victoria, (1984), Coastal Invertebrates of Victoria, p.117, The Museum of Victoria.