Form: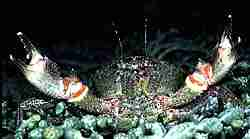 The Tubercled Crab is a medium sized crab with a very roughened appearance. This is caused by the carapace and legs being covered with distinctively-coloured bumps and tubercles.
A distinct notch occurs at the front of the carapace.
In the males the chelae are large.
Colour:
This large, and beautifully adorned crab is brown to reddish-brown in colour with a covering of multicolored tubercles on the carapace, legs and chelae. Some common colours are mauve, purple, orange, brown, buff and touches of red. The fingers of the chelipeds are black in colour.
| | | | |
| --- | --- | --- | --- |
| Phylum: | Arthropoda | Author: | A. Milne-Edwards, 1860 |
| Family: | Portunidae | Size: | 60-75 mm |
Distribution:

Found from Port Jackson, New South Wales around southern Australia to Albany in Western Australia, including Tasmania.
Habitat:
Found under rocks on medium to low energy coasts.
Biology:
The Tubercled Crab is easily distinguished from its near relative the Rock Crab, Nectocarcinus integrifrons, by the much rougher appearance of the carapace and legs.
---
References:
Bennett, I. (1987) W.J. Dakin's classic study: Australian Seashores. Angus & Robertson, Sydney.
Davey, K. (1998) A Photographic Guide to Seashore Life of Australia. p.49, New Holland, Sydney.
Edgar, G.J. (1997) Australian Marine Life: the plants and animals of temperate waters. p.210, Reed Books, Kew.
Jones, D. & Morgan, G. (1994) A Field Guide to Crustaceans of Australian Waters. p.163, Reed, Chatswood.
Marine Research Group of Victoria (1984) Coastal Invertebrates of Victoria: an atlas of selected species. p.113, Museum of Victoria, Melbourne.