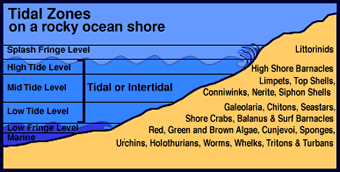 On rocky ocean shores, one of the harshest environments for animals which have come from a marine origin is the Splash Fringe Level. This level is found immediately above the highest tide level reached in any month. This area may only be wetted by spray or mist from the sea, but may also be deluged with fresh water during storms.
Here the greatest environmental danger for shore animals is being dried out by the sun. Most animals that live here have very effective ways of locking water into their shells, such as having a tight fitting door called an operculum, to seal the shell entrance from precious water loss. Another way is to seal the small cracks with a thick jelly-like material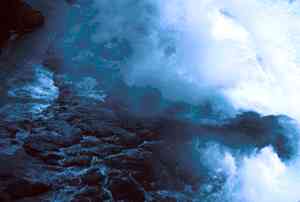 On some wave-smashed rugged shores the Splash-fringe level may extend for a few hundred metres up the shore or up a cliff face.
At Cape Bridgewater in western Victoria, shown above, the waves are huge. This photograph was taken from the cliff-top, so the boulders are about a metre high each. This is reputed to be the roughest shore in Australia. Here the Splash-fringe level extends a hundred metres up the vertical cliff face. It is also here that the Six-plated Barnacles, Cthamalus antennatus reach their tallest.
On calm water shores, this splash-fringe level will not exist.
We'll now look at some of the animals that live at the highest regions of a rocky shore in the Eastern Warm Temperate Zone.

The Tubercled Noddiwink, Nodilittorina pyramidalis, is the highest occurring shell-living creature along the shores of south-eastern Australia. It, and its other close relatives in the Nodilittorina, Littorina and Littoraria species which all tend to live high on shores wherever they are found. The gregarious Tubercled Noddiwink is distinctive because of its turban-shape and evenly shaped tubercles.

Another dweller of these high regions is the small Blue Australwink, Nodilittorina unifasciata. This pretty, blue-coloured mollusc often clusters in large numbers into small moist crevices on the rock face. The bright blue, young ones seem to live in more densely packed groups towards low water. As they grow older, they become more scattered and solitary as they climb higher and higher.

A bivalve which may be found on rocky ocean shores, is the Common Edible Oyster, Saccostrea glomerata. It prefers areas which has a little freshwater, such as a small soak from the base of a cliff.

If you are very quiet you may see the Marine Slater, Ligia australiensis scuttling across the shore. Along eastern Australia it is common on rocky areas in estuaries, and sometimes seen on the coast. Along the shores of southern Australia, the Marine Slater is superabundant, hiding under anything which will give it protection. The Marine Slater is a crustacean related to shore crabs, prawns, lobsters and unusually, the barnacles.
In our walk, from the highest shore levels towards the sea, we now come to the Tidal Zone, or Midlittoral Zone of some researchers. The upper section of the tidal zone is the High Tide Level.
In this set we will be looking at the animals and algae found in the Eastern Warm Temperate Zone in south-eastern Australia.
This region is generally covered and uncovered by the tide at least twice each day along the Australian south-eastern coasts. This is the region which is truly "intertidal".
---
References
Bennett, I. (1987) W.J. Dakin's classic study: Australian Seashores. Angus & Robertson, Sydney.
Davey, K. (1998) A Photographic Guide to Seashore Life of Australia. New Holland, Sydney.
Edgar, G.J. (1997) Australian Marine Life: the plants and animals of temperate waters. Reed Books, Kew.
Jones, D. & Morgan, G. (1994) A Field Guide to Crustaceans of Australian Waters. Reed, Chatswood.
Quinn, G.P., Wescott, G.C. & Synnot, R.N. (1992) Life on the Rocky Shores of South-Eastern Australia: an illustrated field guide. Victorian National Parks Association, Melbourne.
Marine Research Group of Victoria (1984) Coastal Invertebrates of Victoria: an atlas of selected species. Museum of Victoria, Melbourne.
Macpherson, J.H. & Gabriel, C.J. (1962) Marine Molluscs of Victoria. Melbourne University Press & The National Museum of Victoria.
Shepherd, S.A. & Thomas, I.M. (1982) Marine Invertebrates of Victoria, Pt. 1. South Australian Government Printer, Adelaide.
Underwood, A.J. & Chapman, M.G. (1993) Seashores: a beachcomber's guide. New South Wales University Press, Sydney.
Wilson, B.R. & Gillett, K. (1979) A field guide to Australian Shells: Prosobranch Gastropods. A.H. & A.W. Reed, Sydney.
Womersley, H.B.S. (1987) The Marine Benthic Flora of Southern Australia. pt. 1 , South Australian Government Printer, Adelaide.