Form: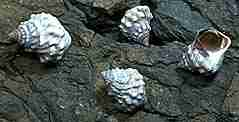 The Tubercled Noddiwink has a small shell which is long and turban shaped. It has rounded whorls, sculptured with 2 spiral rows of centrally located nodules with many fine ridges. Its aperture is oval shaped. The columella is calloused and curved. The operculum, which protectively covers the aperture to hold in moisture, is horny and thin.
Colour:
The shell colour is light blue-grey with fawn nodules. The aperture is brown with a pale brown band near the base. The interior is red-brown.
Distribution:

The Tubercled Noddiwink ranges from New South Wales, around Queensland, across the Northern Territory, and down into Western Australia south to Fremantle. The Tubercled Noddiwink is found throughout the Indo-Pacific region of Australia. It is a more-or-less tropical species extending down the east and west coasts into the temperate zones.
Habitat:
The Tubercled Noddiwink is found above, at and below high-tide level on exposed rock surfaces.
Biology:
The Tubercled Noddiwink may be abundant on some shores. It lives in groups on rocks at and above high-tide levels. Its turban-like shape and strong, evenly shaped tubercles are characteristic. It feeds by scraping algae from the rocks, so it is a herbivore.
Questions:
The Tubercled Noddiwink is often found above the level reached by the highest tides.
How can it survive in this region ?
When and what does it eat ?
How does it mate and release its eggs ?
How does it stop from being dried out by the sun ?
---
References:
Bennett, I. & Dakin W.J. ,(1987) Australian Seashores: W.J. Dakin's classic study. p. 218, Angus & Robertson, North Ryde
Davey, K. (1998) A Photographic Guide to Seashore Life of Australia. p. 131 New Holland Press, Frenchs Forest.
Edgar, G.J. (1997) Australian Marine Life: the plants and animals of temperate waters, p. 246, Reed Books.
Macpherson, J.H. & Gabriel, C.J. (1962), Marine Molluscs of Victoria, p. 90, National Museum of Victoria.
Marine Research Group of Victoria, (1984) Coastal Invertebrates of Victoria, p.45, Museum of Victoria.
Wilson, B.R. & Gillett, K.(1982) A Field Guide to Australian Shells, Prosobranch Gastropods, p.52, A.H. & A.W. Reed
Wells, F.E. & Bryce,C.W. (1988) Seashells of Western Australia, p.50, plate 117.