Form: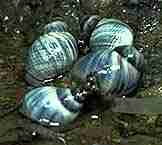 The Blue Australwink has a small shell which is turban shaped with 5-7 rounded whorls. The body whorl is partly keeled.
The sculpture is of very fine spiral striations. The base is slightly flattened. It also has a flattened columella.
The aperture is oval and is covered with a thick, chitonous operculum.
Colour:
Shell greyish-blue with brown apex. A dark band circles the middle of the body whorl. The aperture is brown with a white band near its base. The interior and columella are brown.
Distribution:

The Blue Australwink ranges from southern Queensland, down New South Wales, across Victoria, South Australia and north to North West Cape, Western Australia.
It occurs generally throughout southern Australia south of the Tropic of Capricorn. It is very rare or even absent across the Great Australian Bite.
Habitat:
The Blue Australwink is found at and above high tide levels, often in large numbers, clustered on exposed rocks and rock faces.
Biology: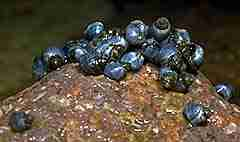 Juvenile Blue Australwinks are often found clustered together, low on the shore. But as they grow in size they migrate further and further up the shore, to sometimes quite high levels far above high tide level into the spray region. Here they tend to live a more solitary life, although they do congregate around moist cracks, or under shelter. It feeds on lichens.
The Blue Australwink breeds throughout the year. Formerly known as Littorina mauritiana (Lamarck, 1822), Banded Periwinkle, Melaraphe, Littorina, Austrolittorina. The Blue Australwink is a herbivore.
---
References:
Bennett, I. & Dakin W.J. ,(1987) Australian Seashores: W.J. Dakin's classic study. p. 281-2, Angus & Robertson, North Ryde
Davey, K. (1998) A Photographic Guide to Seashore Life of Australia. p. 100 New Holland Press, Frenchs Forest.
Edger, G.J. (1997) Australian Marine Life: the plants and animals of temperate waters, p. 245, Reed Books.
Macpherson, J.H. & Gabriel, C.J. (1962), Marine Molluscs of Victoria, p. 87, National Museum of Victoria.
Marine Research Group of Victoria, (1984) Coastal Invertebrates of Victoria, p.44, Museum of Victoria.
Shepherd, S.A. & Thomas, I.M. (1989) Marine Invertebrates of Southern Australia: pt. II. South Australian Government Printing Division.
Wilson, B.R. & Gillett, K.(1982) A Field Guide to Australian Shells, Prosobranch Gastropods, p.52, A.H. & A.W. Reed
Wells, F.E. & Bryce,C.W. (1988) Seashells of Western Australia, p.52, plate 11