Form: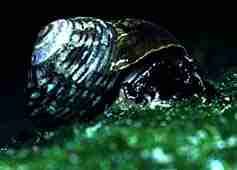 The Common Warrener is a medium to large mollusc. Its shell is wide, round and turban-shaped. The whorls are rounded. It has a low spire. The sculpture consists of low spiral ridges and deep sutures. The early whorls are keeled more strongly and persistent in western forms. The columella is rounded. The aperture is circular, covered with a thick and circular calcareous operculum, marked on the underside with a flat spiral.
Colour:
The shell is dark bluish-green, mottled with white zigzag streaks. Its surface may be covered with brown epidermis. The aperture is protected by a thick, white operculum. The umbilicus has a white callus.
| | | | |
| --- | --- | --- | --- |
| Phylum: | Mollusca | Author: | Lightfoot, 1786 |
| Family: | Turbinidae | Size: | 70-110 mm diameter; length 40 mm |
Distribution:

New South Wales, Victoria, Tasmania, South Australia and Western Australia to Geraldton.
Habitat:
Found at mid to low-tide levels in rock pools and crevices on medium to high energy coasts.
Biology:
In N.S.W. this mollusc breeds from Oct./Nov. to May. The name N. whitleyi (Iredale, 1949) has been given to the strongly keeled form of W.A. However, intermediate forms occur along the southern coastline.
This mollusc grazes on algae found in the low tide levels on the shore. It is eaten by birds and fish.
The small Bonnet Limpet, Hipponyx conicus, may be found in groups attached to a Common Warrener near the opening aperture edge. It is a commensal feeder.
---
References:
Often referred to as Turbo undulatus and occasionally as Subninella undulatus in some references. .
Bennett, I. (1987) W.J. Dakin's classic study: Australian Seashores. p.278, Angus & Robertson, Sydney.
Davey, K. (1998) A Photographic Guide to Seashore Life of Australia. p.92, New Holland, Sydney.
Edgar, G.J. (1997) Australian Marine Life: the plants and animals of temperate waters. p.242, Reed Books, Kew.
Quinn, G.P., Wescott, G.C. & Synnot, R.N. (1992) Life on the Rocky Shores of South-Eastern Australia: an illustrated field guide. p.44, Victorian National Parks Association, Melbourne.
Marine Research Group of Victoria (1984) Coastal Invertebrates of Victoria: an atlas of selected species. p.42, Museum of Victoria, Melbourne.
Macpherson, J.H. & Gabriel, C.J. (1962) Marine Molluscs of Victoria. p.78, Melbourne University Press & The National Museum of Victoria.