Form: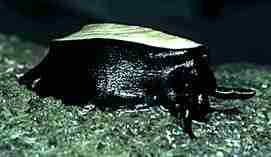 The Elephant Snail is the largest of the Australian False Limpets. The shell is large, solid and shield shaped. Unlike other false limpets there is no aval groove or slit, and there is no bold sculpture.
It is easily identified because the large animal is tough and jet-black in colour, while the folds of its mantle almost conceal the oval. whitish coloured shell. The shell may be up to 125 mm long.
Colour:
A large, jet-black coloured animal, with a dirty white coloured shell partly seen underneath the enveloping mantle flaps.
Distribution:

Found from New South Wales around southern Australia to Geraldton in Western Australia, including Tasmania and New Zealand.
Habitat:
Occurs commonly in rock pools and in crevices at low tide level and down to 20 metres, on rocky ocean shores. Often found under rocks and boulders.
Biology:
The Elephant Snail is a very active mollusc. If disturbed it moves about with its long tentacles swaying from side to side. It is an algae feeder.
---
References:
Also known as the Duckbill Limpet, Elephant Slug, Shield Shell, and Elephant Fish.
Bennett, I. (1987) W.J. Dakin's classic study: Australian Seashores. p.238, Angus & Robertson, Sydney.
Davey, K. (1998) A Photographic Guide to Seashore Life of Australia. p.75, New Holland, Sydney.
Edgar, G.J. (1997) Australian Marine Life: the plants and animals of temperate waters. p.230, Reed Books, Kew.
Quinn, G.P., Wescott, G.C. & Synnot, R.N. (1992) Life on the Rocky Shores of South-Eastern Australia: an illustrated field guide. p.36, Victorian National Parks Association, Melbourne.
Marine Research Group of Victoria (1984) Coastal Invertebrates of Victoria: an atlas of selected species. p.25, Museum of Victoria, Melbourne.
Macpherson, J.H. & Gabriel, C.J. (1962) Marine Molluscs of Victoria. p.34, Melbourne University Press & The National Museum of Victoria.
Shepherd, S.A. & Thomas, I.M. (1982) Marine Invertebrates of Victoria, Pt. 2. p.541, South Australian Government Printer, Adelaide.
Underwood, A.J. & Chapman, M.G. (1993) Seashores: a beachcomber's guide. p.52, New South Wales University Press, Sydney.
Wilson, B.R. & Gillett, K. (1979) A field guide to Australian Shells: Prosobranch Gastropods. p.28, A.H. & A.W. Reed, Sydney.