Form: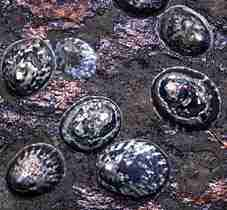 Small to medium-sized oval and flattened, shell. It has a sharp apex located at the base quarter. The base slope is arched. Its sculpture is of widely spaced, smooth, riblets crossed by concentric growth lines.
Colour:
Shell dull white or light brown with 30-40 dark brown radiating bands. Interior pale brown. Sharply defined interior apex chocolate brown.
| | | | |
| --- | --- | --- | --- |
| Phylum: | Mollusca | Author: | Tenison Woods, 1876 |
| Family: | Acmaeidae | Size: | 12 -25 mm length, 20 mm width |
Distribution:

Southern Queensland, New South Wales, Victoria, Tasmania and eastern South Australia.
Habitat:
At or near high-tide level on exposed, often vertical, rock surfaces exposed to ocean surf.
Biology:
A herbivore. Often found with air-breathing Siphonaria spp. The prominent homing scar usually found on vertical rock surfaces indicates that this mollusc has well-developed homing behaviour.
It is known to grow older than ten years. Eggs are probably spawned singly into water in May or June. Spawning is probably triggered by storms and high seas. Larval development takes about 9 days from pink mature oocytes to the crawling animal (Anderson, 1965). Petterd's Limpet is preyed upon by Sooty Oyster Catcher.
---
References:
Also known as Collisella petterdi
Bennett, I. (1987) W.J. Dakin's classic study: Australian Seashores. p.236, Angus & Robertson, Sydney.
Davey, K. (1998) A Photographic Guide to Seashore Life of Australia. p.85, New Holland, Sydney.
Edgar, G.J. (1997) Australian Marine Life: the plants and animals of temperate waters. p.236, Reed Books, Kew.
Quinn, G.P., Wescott, G.C. & Synnot, R.N. (1992) Life on the Rocky Shores of South-Eastern Australia: an illustrated field guide. p.40, Victorian National Parks Association, Melbourne.
Marine Research Group of Victoria (1984) Coastal Invertebrates of Victoria: an atlas of selected species. p.33, Museum of Victoria, Melbourne.
Macpherson, J.H. & Gabriel, C.J. (1962) Marine Molluscs of Victoria. p.53, Melbourne University Press & The National Museum of Victoria.
Shepherd, S.A. & Thomas, I.M. (1982) Marine Invertebrates of Victoria, Pt. 2. p.548, South Australian Government Printer, Adelaide.