Form: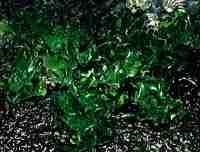 A green algae, usually with a broad, thin, almost transparent single frond from a small holdfast. It is not divided into long branches.
The thalus (leaf) is often entire, but may be divided to form ruffled branches.
The frond may grow to 15 cm long and 10 cm across. The common name Sea Lettuce describes its form well.
Colour:
The Sea Lettuce is grass green in colour.
| | | | |
| --- | --- | --- | --- |
| Phylum: | Chlorophyta | Author: | Linnaeus. |
| Family: | Ulvaceae | Size: | 100 - 150 mm |
Distribution:

Once considered a cosmopolitan species, researchers have now divided this algae into a number of species. Womersley has identified six related species from southern Australian shores.
Habitat:
The various species of Sea Lettuce occur at the lowest tide levels, and in rock pools, in areas constantly being washed by breaking waves. It never occurs on the steep marginal slopes, but prefers flat platform surfaces.
Biology:
Ulva sp. appear to grow luxuriantly during winter and seem to prefer waters enriched by organic waste.
---
References:
Bennett, I. (1987) W.J. Dakin's classic study: Australian Seashores. p.133, Angus & Robertson, Sydney.
Davey, K. (1998) A Photographic Guide to Seashore Life of Australia. p.20, New Holland, Sydney.
Edgar, G.J. (1997) Australian Marine Life: the plants and animals of temperate waters. p.28, Reed Books, Kew.
Quinn, G.P., Wescott, G.C. & Synnot, R.N. (1992) Life on the Rocky Shores of South-Eastern Australia: an illustrated field guide. p.13, Victorian National Parks Association, Melbourne.
Underwood, A.J. & Chapman, M.G. (1993) Seashores: a beachcomber's guide. p.25, New South Wales University Press, Sydney.
Womersley, H.B.S. (1987) The Marine Benthic Flora of Southern Australia. pt. 1, p.141, South Australian Government Printer, Adelaide.