Form: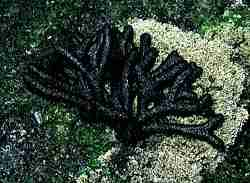 Green Sea Velvet is an erect, much branched, dark green algae. It has rounded, finely branched fronds which are packed close together. The fronds grow up to 30 cm long and are about 6 mm thick. The cylinder-shaped fronds often split into two equal halves.
When under water, fine hairs can be seen all over the branches. The basal disc is broad, spongy and soft.
Colour:
Green Sea Velvet is black green to dark bottle green in colour.
| | | | |
| --- | --- | --- | --- |
| Phylum: | Chlorophyta | Author: | Lucas 1936 |
| Family: | Codiaceae | Size: | 50 - 300 mm |
Distribution:

Green Sea Velvet ranges from Ballina in northern New South Wales, south and west to Victor Harbour in South Australia, including Tasmania. This species is found in cooler temperate waters of both hemispheres.
Habitat:
It occurs at the lowest tide levels and below, as well as in intertidal pools on high energy rocky coasts.
---
References:
Bennett, I. (1987) W.J. Dakin's classic study: Australian Seashores. p.137, Angus & Robertson, Sydney.
Davey, K. (1998) A Photographic Guide to Seashore Life of Australia. p.21, New Holland, Sydney.
Edgar, G. J. (1997) Australian Marine Life: the plants and animals of temperate waters. p.34, Reed Books, Kew.
Womersley, H. B. S. (1984) The Marine Benthic Flora of Southern Australia. Pt. 1. p.238, Govt. Printer, South Australia.